How to create a newsletter? Well, to know about creating a newsletter, we must at first understand what a newsletter is.
A newsletter is a printed or electronic tool used by merchants, businesses, or organizations, to the customers and audiences, which contains important and necessary information regarding activities of the networks concerned with the customer and audience.
Newsletters are pretty much a necessary step for any business, as it helps to engage well with their customers. The newsletter can cater to many business objectives and outcomes, which we will find out later.
What is an Email Newsletter?
A newsletter comes in the form of an email. Email newsletters are promotional letters mentioning specific occasional matters about any product it is sent to let the subscribed customers know about any special launches of any product, rare discounts, sales, any exclusive features or updates, etc. By the merchants and organizations. Newsletters are a part of a good marketing strategy that helps build a good merchant-customer relationship. To the customers, newsletters seem more like a sweet business gesture by the particular business or organization.
Email newsletters are basically sent out to the customers depending on a particular schedule. Email newsletters can be sent out each week, two weeks, or monthly.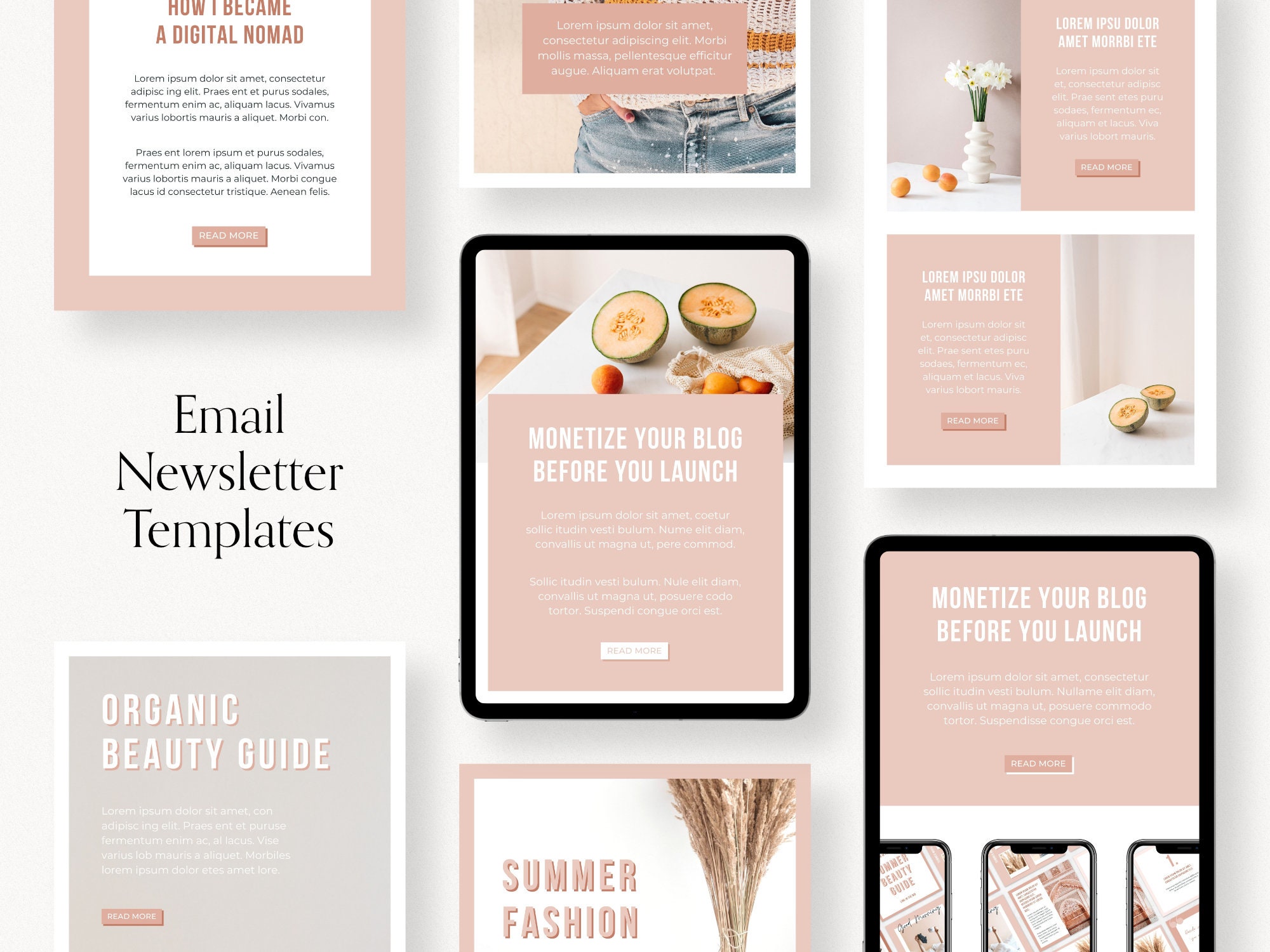 Newsletters are also often known as bulletins, circulars, journals, etc, and many others.
But, newsletters serve a purpose. Do they not? We will come to the "how to create a newsletter" eventually. Let us first see what is the purpose of a newsletter.
What is the Purpose of the Newsletter?
Are you all familiar with a thing called a 'prospectus'? Sure, you have heard of it before. A prospectus is being given out to people, especially students, which contains they want a piece of detailed general information about anything in particular, such as a school, college, or university.
An email newsletter performs almost the same functions as that of a prospectus, but in a professional way, and in the field of business. An email newsletter provides an insight of the business or organization, to its customers and subscribers, regarding the structure of the business, different range of products, discounts, offers, exclusive launches, availability of the mentioned products, any new features, etc.
Newsletters are more often sent out to the customers for the purpose of entertaining them or getting them acquainted with particular features or things, your latest blogs, than informing them about the sales, or offers. However, a newsletter must never seem assertive or obnoxious to the customers. This can rather tend to lose your customers. Therefore, a newsletter should be more like providing information on the latest blogs from the merchants, an update, or a short entertaining story enough to make the customers not feel bored with it. To sum it up, newsletters should help engage the customers with the mentioned information on newsletters sent out to them.
How Effective are Newsletters?
While the idea of newsletters is still overlooked and many think of it as an outdated option, the newsletter is a reliable and effective part of a business strategy, which helps promote content, when built or created uniquely.
Emails and newsletters are an essential part of any successful business and are of great monetary value. Yes, they are monetized and help in gaining revenues. A marketer throughout the course of learning how to excel in his business may surely have come across many tactics and ideas.
A newsletter is a very common and fantabulous tool using which the ulterior motive of any business can successfully be executed or fulfilled. A newsletter generates a good amount of revenue.
For that, one must know how to create a newsletter.
How to Create a Newsletter: Step by Step Guide for Beginners
A newsletter is an amazing way of generating revenues but how do you create a newsletter? How to create a newsletter? A newsletter can be a great way of storytelling format, that can serve your loyalty towards your customer while earning revenues, and is a great way that keeps you in your audience and customer's minds.
Now, how to create a newsletter? Here is a step-by-step guide that will help you create a dynamic newsletter:
A good strategy for a good format
How to create a newsletter? The main objective while creating a newsletter is to have a good strategy. A good strategy will help you create a newsletter format good enough to help your business grow. The first and foremost requirement of creating a newsletter is planning on how to create a newsletter.
While planning to create a newsletter, you must keep in mind a few important things.
You have customers and an audience to target, but what are the requirements of them that your newsletter can cater to?
What can your newsletter serve them or what is the purpose of your newsletter? There are various categories that a newsletter works for, like the consistent content following, building customer relationships, generating traffic and increasing sales, etc.
Types of content you want to share through your newsletter.
How often will you be sending them out, like, weekly, monthly, quarterly, etc?
How creatively effective can you make your newsletters according to your customer's requirements, and vice versa.
And the most important thing that you would want to take note on how to create a newsletter is if your newsletters are true and of any value to your customers. Displaying your content inordinately and absurdly can lead to a reduction of customers, as most of them can or may find it annoying, which will likely affect the open and click rates to lower and reduce.
To get more ideas on how to create a newsletter, contemplate email-marketing-automation-software. It can be beneficial for creating newsletters that can target your audience rightfully. Creating new content and displaying a link towards them on your website can also be of great value. But make sure to use creative and powerful words in the format, that can stir up the human minds, indirectly dominating them to open your newsletter and watch them.
Software platform for creating outstanding newsletters
'How to create a newsletter?' and 'how to create a newsletter!' can strike your minds as both a question and a statement. But the obvious answer will always come in the form of a statement. Confusing, right?
Not using any software to create a newsletter can also be equally confusing to you, or even more confusing than you can think of. The creation of a newsletter can seem like quite an easy task but ensuring it is delivered at the right time, to the right customers is not. You can think that the emails you have sent out to hundreds and thousands of customers might have made it to their inboxes, but that is not likely to happen. That is why email marketing automation software is required.
What does email marketing software do?
Regardless of the deliverability of an email, if it doesn't have any legal content, IP signatures, and a domain, the chances of the email getting spammed are increased. As the audience would not find any basis for the email received by them, they will take it as unuseful and disturbing. An email marketing software ensures the deliverability of the email while managing the technical support required.
An email marketing software serves as an email service provider too, and unlike particular email sending apps, they ensure the deliverability of emails to a much greater number of audiences using all the mandatory technical support.
If you want to opt for email marketing software, Sendinblue can be a good provider of this service. They are a flexible working platform, and only charge per number of emails send.
A newsletter email list is required
To create a newsletter, creating an email list to ensure the type of audience you want to target is important, as only then you will be able. Send your audience a sign-up option for receiving your emails, this will lead to growth in customers. Avoid buying email lists, as it will only reduce the email deliverability rates. Email list needs continuous management and email marketing software can help you cut some slack here.
Overall setting up of an email list consists of:
Importing the existing contacts
Creating an email list.
To know in brief about these, you can visit Sendinblue.
A subscription form for the audience
As I have already mentioned above, creating a subscription form and sending it out to the audience can be of great benefit to the customer relationship and can get customers to engage a lot. Tell them about your email newsletter and what these can provide to your customers.
Include options like, the name of the customer, times the customer wants to receive a newsletter like weekly or monthly, a subscribe option, and an unsubscribe option too. Facilitate your websites with these options too.
If you have done the previously mentioned things already, then it is now time for you to create your first newsletter.
To compose a newsletter, you must first do the following things:
An email subject line— This is where you have to fill up the information regarding the newsletter campaign.
Information of the sender— Sender information is a crucial part of the whole newsletter. It is the section where the name of the sender appears and has to look genuine.
Newsletter design— Another important part of the whole format, is choosing a design to lay the format over. Remember, a good newsletter design must include all the options that a customer requires. Try to think it through and you will find out on your own.
A good contact list— A good contact list is what you would want to have, for they are the audience you will be targeting with the campaign. For your convenience, while sending email campaigns out to the contacts, you can also select a lot of filters that can help you throughout.
Once you have finished designing a newsletter with all the appropriate things and options required, you can start sending them out. But, a test newsletter would be fantabulous to see if there are any inconveniences that need a rechecking or to fix any issues.
Once the checking is done and found error-free, it is now all good to be sent out to the contact list that you have curated.
Tracking an email newsletter is critical, and a key strategy of the whole newsletter campaign. Tracking a newsletter means how far your newsletter has reached and created an impression on the audience.
You can review the newsletter using various insights, that include the number of times the newsletter has bounced, and whether the bounce is soft or hard. The click-through rates, open rates, and the unsubscribe rate—-all of these fall under the review option and you must go through these, to understand and overcome the difficulties and problems they have.
Final Thoughts
A newsletter is an amazing way of growing your business at an amazing rate. And now that you know how to create a newsletter, it would definitely help you fulfill your business strategies. The purpose of the newsletter and its effectiveness have been explained well, and the importance of having an email marketing software is mandatory too. Using all of these tools, you can make and circulate an excellent newsletter, that can help achieve a good customer engagement, and generate web traffic.
Frequently Asked Questions
1. How do beginners create a newsletter?
Anyone can create a newsletter. But it would be more appropriate if one uses a particular email marketing platform for creating newsletters. For example, Seninblue is one such platform to create amazing newsletters.
2. Are newsletters worthy?
Even if the idea of sending out newsletters is overlooked, they are a great way of promoting one's business and generating web traffic.
3. Where can I find newsletter templates?
Newsletter templates can be found on email marketing software platforms. Google also provides email newsletter templates.