Sass is a new energy in businesses across the globe. It has seen growth from 51% to 73% from 2018 to 2020 and is expected to grow by 86% by end of 2023 as per the survey done by finance online.
From the above analysis, it is quite evident that with growing saas trends and its penetration in business, it has rising challenges issues as well. The biggest one seems to be security.
In 2020, we saw businesses choosing remote working as the new normal and depending on Software as a service tool like monitoring tools to manage their human resources. Meeting business privacy while using this software as a service was a matter of concern.
There are a lot of metrics to be considered while choosing a saas. Talk to our expert to help guide you in choosing the right and secured Software as a service for your business.
What Is SAAS?
Saas or Software as a service is a type of on-demand software that can be used on a subscription model. These softwares are hosted centrally on a cloud server which can be used by anyone who pays for its subscription or uses it for free as available by the saas vendor.
While using Software as a service, all your data is stored in the cloud storage of the saas vendor. This is also called a cloud service. Software as a service is a part of this cloud computing model where it has three categories called as
IAAS or Infrastructure as a service
PAAS or Platform as a service and
SAAS or software as a service.
To make it clear, you are using Netflix. People have asked earlier, Is Netflix a saas? to answer this read more ahead
IS Netflix a saas?
To answer this, yes, Netflix is a saas. It sells licensed videos to watch. The videos are hosted on its platform. If you wish to watch them, you need to pay a subscription fee to Netflix.
Similar to Netflix, you have a lot of other software as a service to solve a lot of pain points as per different industries.
Let us take some Software as service examples
4 Common Software As A Service Examples You Use Daily
Saas is not a new term. We have been using the software as a service since 1960. During those times, computers were large in size and they didn't exist like today. During those times, it was called a time-sharing system. With the advent of advanced technologies like microchips, microcontrollers, and processors, the size of computers and programs got reduced and in the late 1990's we started seeing Softwares overtaking the operations of computers. It become all about centralized computing giving rise to cloud computing.
With this technology, we were able to use software without any headache with installation or extra hardware requirements. With just web browsers, our purpose is solved.
Some examples of such software as services that you have been using for quite a long now are following
Gmail – We have been using Gmail since 2004.
Netflix – Used by us for movies and web series.
Whatsapp – A messaging service that we use is software as a service.
Google Drive – A cloud storage service that we use to store our files on the cloud so that it can be accessed from any place or location.
Shocked? You have been a free saas user for a quite long time now as we all know that Gmail is something that we have been using for quite a long time now and it is free software as a service in the email business.
So now you believe in Software as a service? We see a lot of people have security issues with SAAS. They are not sure if it is right to switch their business operation to software service dependency. Let's understand this decision of making choice between software as a service and In premise software.
While you are in confusion as to what to choose for your business, consider a few questions and answer them. These questions can be
How Does SAAS or Software as a service works?
SAAS works on a cloud delivery model. It is a unique offering in which the customers don't have to install any software to their system. It is accessed using web browsers or apps. The creator of SAAS host the application in their own server with all its data and computing resources. Alternatively, they can also be Independent Software Vendors.
All these opportunities to access the software are based on a subscription model as we understood above in the case of Netflix as a SaaS.
All the customers of SaaS are offered the same copy of the software which they can use and set up the way they want to use it. If the SaaS vendor pushes any new update, it is updated for all the customers depending upon the SLA's [ Service level agreement ].
The customer data can be stored according to the policies of the SaaS business which customers can customize. The data can be stored locally by customers or on the cloud.
The best thing about using SaaS is if it allows APIs [ which mostly they offer ] you can integrate other software that you are already using and improve work performance.
Companies prefer using SAAS in order to reduce their burden in challenges like high cost on infrastructure, paying for software only when needed, It gets easily available without any downloads. Due to such ease of availability, companies use SAAS. Also, Software Support for many SAAS products are readily available and often included with the product purchase.
SAAS Vs On Premise software: Which Is Better?
What is the annual cost you are paying to both saas vs on premise software? Identify your budget and compare it on monetary terms.
Identify the resources that you will manage or get with SAAS.
How saleable if your software as a service as you grow?
What type of customization do you expect in your software?
Compare the functionality of both saas vs on premise software.
Understand the ease of use for both.
While answering these questions if software as a service offers more flexibility and is budget-friendly then you should consider switching to software as a service.
The software as a service tool is considered budget-friendly as their startup cost for integrating it to your business is much cheaper compared to on-premise applications.
Small and startup businesses can easily get a heads-up with switching their business operation and management with saas at less cost. Probably the best idea for them.
Since these are cloud-based applications so accessibility and using the features by users is quite easy and flexible. While in on-premise software, it is restricted to systems in which it is installed.
While we see a lot of traditional businesses are still dependent on ERP technology, the potential of the cloud is limitless and easy to switch. We recommend such businesses to look for saas alternatives.
IaaS vs PaaS vs SaaS: Examples and How to Differentiate
We have understood by now that these technologies are a category of cloud computing. They offer users to use resources and features from any location without having any hardware to afford them for usage. Let us understand them in detail.
1. IaaS (Infrastructure as a Service).
Iaas is a pay-as-you-go solution for businesses who want to use storage, virtualization, or networking without having an on-premise solution.
It helps businesses avoid expensive infrastructure costs.
Delivery – Iaas is delivered via the internet hence it can be accessed from any location.
Pros And Cons Of IAAS
Pros of Using IAAS
Highly flexible and scalable.
You can replace IAAS infrastructure without losing initial investment cost.
It is beneficial for businesses of all shapes and sizes.
You get complete control over your infra and pay as you go.
Cons of Using IAAS
High initial investment cost.
You need to be an IT expert to manage IAAS.
IAAS Example – The Amazon EC2 is one of the great examples of IAAS. Amazon Elastic Compute Cloud (Amazon EC2) is a web service that provides secure, resizable compute capacity in the cloud. It is designed to make web-scale cloud computing easier for developers.
2. PAAS [ Platform as a service ]
Platform as a service or PASS is a solution offered by a vendor in which you get both software and hardware to use over the internet. These solutions are generally good for developers who are building new software or applications.
If you are an independent software developer or custom software development services then you must be using PAAS as it helps you to avoid starting from scratch.
Pros And Cons Of PAAS
Pros of Using PAAS
You can start quick.
Easily affordable
You get freedom from technical management.
Scaleable according to the size of your business.
Cons of Using PAAS
Not fit for you if you aren't developer friendly.
Dependency on vendors increases.
Compatibility issues can arise if you switch between different paas.
You may have to struggle with security issues with unreliable paas as it is a public environment.
PAAS Examples – Dropbox is one of the best examples of PAAS service. It offers complete hardware and software solutions for data sharing from a single dashboard. It's like your computer on the cloud.
3. SAAS ( Software as a Service ).
SAAS as we already discussed, is a solution that you get at a monthly subscription cost, unlike IAAS which is paid as you go.
Software as a service is used by a business that wants to transfer its manual work and operations using workflow automation software.
Delivery – software as a service is delivered over the internet with a cloud hosting solution.
Pros and Cons of SAAS
Pros of SAAS
Easily accessible by users.
Available at low budget.
Good to start quick without any deployment time.
User friendly.
Saleable to any tier business.
No hustling in maintenance, integration or deployment with any additional cost.
Cons of SAAS
There can be security issues with unreliable vendors.
Customization capabilities are minimum and vendor dependent.
You are limited to usage since you cannot control its infrastructure.
Sometimes you can face downtime if your saas vendors face outage.
SAAS Example – CuteHR is a good example of an HR SAAS, which is an HR software to manage your remote or in-house team using this software as a service. Similarly, Invideo's online video editor is an example of SaaS software to professionally edit your videos for free.
What are the Advantages of SAAS?
SaaS has revolutionized the way businesses work. The challenges of owing compatible hardware, resources, maintenance challenges have been reduced. No installation and support work is required with SAAS as all these are managed at the provider's end. To understand the advantages, let's have quick pointers.
Scalability: Using SaaS, you can channelize a large size team with no extra human resource interference.
Flexibility: You can customize your software as per usage and requirements. Pay what you want.
Auto-updates: As soon as the SaaS vendors push new codes and features, customers get quick updates.
Customization: You can always ask your SaaS vendors to customize the needs before any SLAs are finalized.
What are the Disadvantages Of SAAS?
With pros, there are always some cons attached to it. What are the cons of using SAAS? Let us find.
You cannot migrate your business so easily from one SaaS provider to other.
Your data is stored in the cloud. If a security breach happens, it can be impactful.
No control over controlling the SaaS update.
Final Thought On SAAS
SAAS Industry is expected to grow rapidly in coming years. Public cloud revenue is forecast to grow 6.3% in 2020 to a total of $257.9 billion, up from $242.7 billion in 2019, according to Gartner.
According to leading SAAS Business BMC, it observed the maximum growth in saas business during this 2018-2020 period.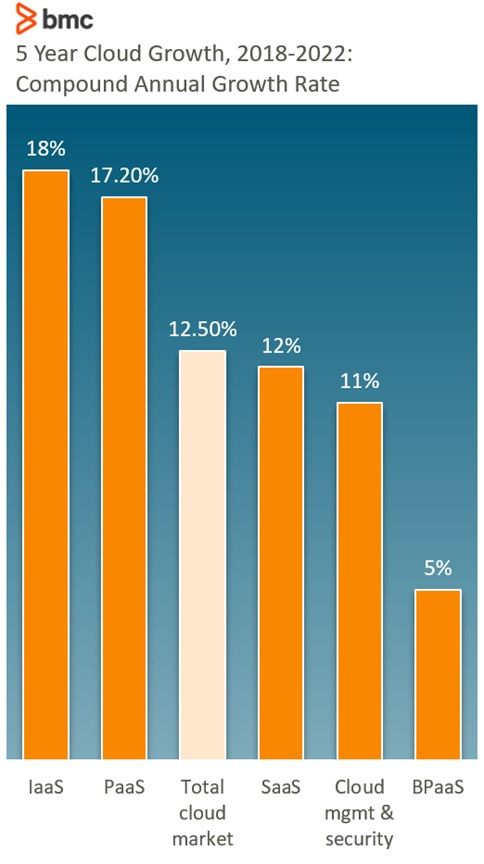 Probably, this industry has huge potential and the experience that businesses have got working remotely, we already have proven success stories coming from businesses across the globe on rising dependence on SAAS instead of using dedicated software. In the rapidly evolving landscape of SaaS, businesses are increasingly turning to nearshore software development in Latin America to harness a wealth of advantages.
FAQ On SAAS
What are examples of SaaS?
Some good examples of saas are Gmail, CuteHR, Netflix, dropbox. Zoom. These are some common saas that you may be used to in your daily life.
What is SaaS and how does it work?
Saas is a cloud-based software that is used by businesses or individuals without installing it anywhere. It can be accessed from any location and just need a web browser to start using.
Why do companies use SaaS?
Companies prefer using SAAS in order to reduce their burden in challenges like high cost on infrastructure, paying for software only when needed, It gets easily available without any downloads. Due to such ease of availability, companies use SAAS.
Why is SaaS so popular?
Using saas is quite easy as compared to on-premises software. It allows businesses to work remotely while managing their business overcloud. Hence the cost of maintenance, monitoring, and infrastructure management reduces. These reasons are making saas popular among businesses.
Why SaaS is the best business model?
SAAS is considered to be the best business model because of its recurring revenue growth. Once you develop a saas that solves the problem in your target industry, you will find people, businesses, and organizations subscribed to your monthly and annual pricing which adds an automated income to your saas business making saas the best business model.